Pasts, Personas & Prophecies: Revised Edition - Physical & PDF Combo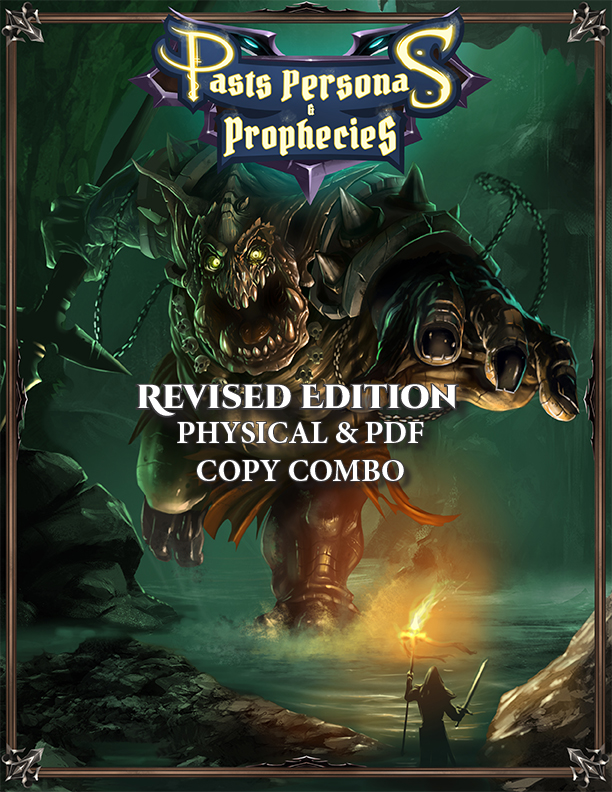 Pasts, Personas & Prophecies: Revised Edition - Physical & PDF Combo
"Adventurer, have a seat and listen ..."
Have you heard the tales of the past, when the men and women of old slayed the dragons of the far mountains? The songs of how they foiled the diabolical schemes of the eastern wizards? Or perhaps the story when the exiled prince prevented the insane high priest from bringing forth the end of all creation? Like them, you too shall become the stuff of legend. In time you shall become a hero.
Experience the thrill of epic adventure in Pasts, Personas & Prophecies. Take on the role of a struggling warrior trying to preserve their honor in a world of evil. Become the aspiring sorcerer whose magic is both awesome and dangerous. Play the selfish rogue, whose destiny it is to salvage a kingdom at war and restore peace to the innocent lives caught in the crossfire!
THIS CORE RULEBOOK HOLDS EVERYTHING NEEDED TO CREATE & PLAY YOUR OWN ROLEPLAYING GAME ADVENTURES, INCLUDING...
... both a PDF copy and a physical print copy of the Pasts, Personas & Prophecies Core Rulebook

... a story focused roleplaying game with all the rules needed for players and Game Masters alike

...a character creation process that concentrates on character history and personality

...dice mechanics that allow players to use their favorite type of dice at the game table

...a magic system that fuels imagination and the creation of unique spells

...prophecy, which develops unseen plot twists and character development

...diceless Game Master rules that help keep the focus on the fun of the game

...easy monster rules that reduce prep time and allow for threat creation midgame